It is unholy to not decorate your house for Christmas and New Year. Just kidding, but it is unethical to do so. The positivism and the cozy vibes that follow the decorations make your holidays so much better. You can do so much when it comes to Christmas and New Year decor. Here are few of a lot of home decor ideas according to the Christmas theme.
Just keep in mind to follow the same color and theme palette in all of these home decor ideas so that everything looks complimenting.
1. Go for the starry fairy lights
Start with the easiest home decor. What is a New Year without lights? Instead of the normal lights go for the starry or snowflake fairy lights. They are appropriate for Christmas and New Year that turn everything dreamy.
2. The snowflake chains throughout the house
Another easy and very appropriate decor piece is a snowflake chain. You can get it easily anywhere. All you have to do is hang it throughout the house or at some specific areas where you have placed a Christmas tree. This adds so much of instant charm to the whole vibe.
3. A Christmas tree made of books
If you don't wish to place a real Christmas tree or if you want to create some DIY home decor at some part of your house, say at your bookshelf, go for this. Take your books and make a tree of them making them look like mini Christmas tree. Trust me, they look super cute and are an attention seeker.
4. More of natural plants and greenery in the house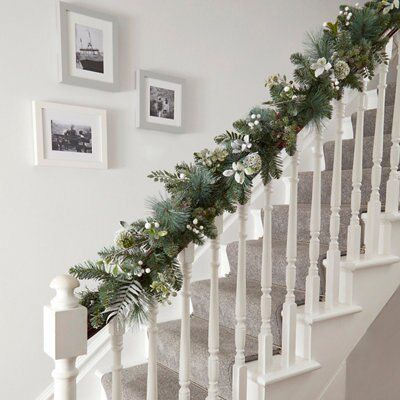 You must have seen chains and chains of greens everywhere for the Christmas decor. You can do that but not the typical way. The idea is to include more real plants in your house by making it evident. This also is quite Christmas-y and a lot practical to keep it for later as well.
5. Create a rustic flair around the living area
Rustic flair or the vintage touch is something that adds so much glam to your house . You could either include new rustic furniture in your house or get your existing furniture painted to give them a rustic look. This vintage touch would be there for your house for a longer time.
6. More candles everywhere
Candles and New Year go hand in hand, so you got to have more of the fancier candles in your house for the Christmas-themed decor. The key that you should follow for amazing decor is that you should include candles of the same color palette to maintain a theme throughout.
7. Big fuzzy socks at the dining area to store cutlery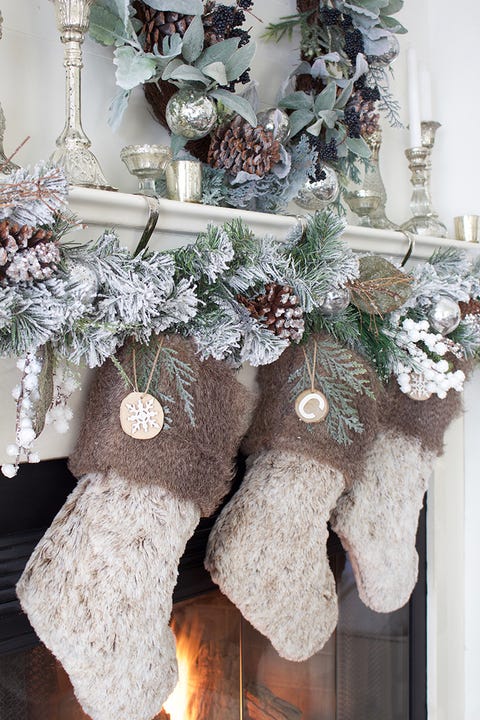 This home decor idea is quite cute and also offbeat. I know including socks is something not new but including the socks that are big, fuzzy, and furry for cutlery storing is kinda offbeat. Your guests are gonna love this for sure.
8. Use presents or wrap boxes as gifts for the decor of the stairs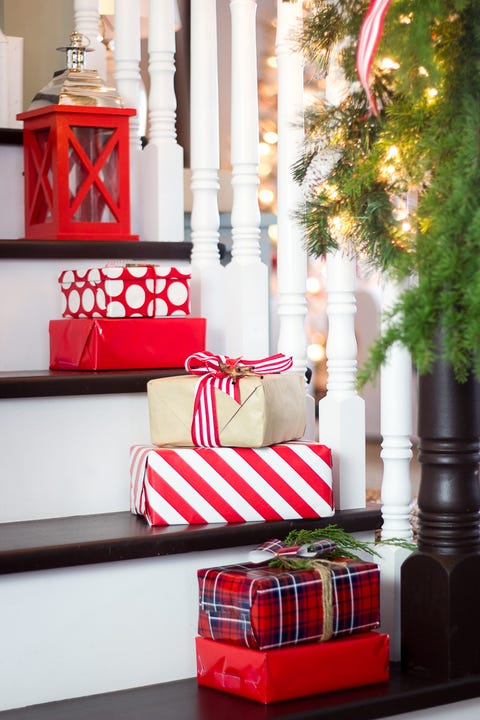 The outer area of your house i.e the gate area or the stairs of your house can be well lit with the gifts or the gift-wrapped boxes. They create a beautiful vibe in your house while maintaining the fun element on.