Did you ever notice that people are cutting from you? It often happens and you actually sit down to wonder, as to what went wrong, but clueless! This should not happen to you, and this is why you constantly need to check yourself if knowingly or unknowingly you're doing anything (annoying habits) that is getting under people's skin.
Eating noisily
Arghh! Well, this is one habit that you don't know is actually testing the patience of people around you. Every time you munch, slurp or swallow, a creepy noise surrounds you which prevent your fellow diners from enjoying their food. They would obviously someday like to point this out to you politely, but they are not going to. Better you check yourself and get this annoying habit out of your head.
Also Read: 7 Signs That Your Friend Is No More Interested In You
Talking endlessly
So, are you often referred to by your friends as a chatterbox? Time to check yourself. You just don't know when you need to shut up – in class, in cafeteria queue, during break – every time you are on! And further, you don't allow another person to speak; you are just self-sufficient. This is ridiculously annoying which might be getting under people's skin.
Also Read: 8 Easy Self-Care Tips Every Introvert Girl Must Follow
Queue breaker
Okay, you're in a library queue where every other girl and boy is waiting patiently for his or her turn. But, no? You can't let this happen. You will come in between, break the queue and ask for privileges. Why? You're no special right. Better, fix this habit quickly. While you might be okay with it but think from the point of view of other people who were waiting there patiently just to end up with you!
Also Read: 7 Desperate Ways That You're Trying To Be A Cool Girlfriend That Won't Work
Never replying to calls or texts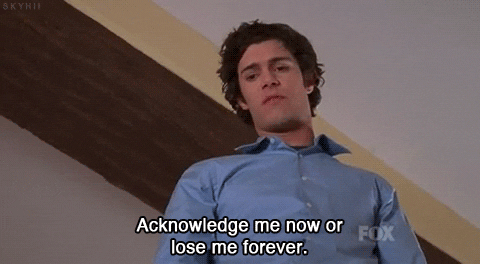 "I've been busy and didn't get time to revert".
Does this sound like a familiar scenario? Actually, no one is ever so busy to not to revert. Even if you're, just dropping a text that you're busy is not going to cost a bomb, right? Even more annoying is the fact that you won't admit your mistake, and have your own lame excuses which beat the shit out of people.
Also Read: 5 Girls You Need To Start Talking With Today
You're often whining and complaining
A bit of complaining about a headache, being tired or bombarded with work is obvious and a topic to communicate on with friends. But you just won't stop here. You take this to a next level. You're always focusing on negativity. No day passes when you have not whined. Well, this actually repels your friends and fellows from you. Sometimes you just need to accept the things the way they are and move on.
Also Read: Why You Should Not Apologize For Being Emotional (And How To Embrace It)
Checking-in on social media every now and then
That's social media and not your itinerary planner that you keep on bragging about the places that you visit on social media every now and then. From drinking coffee at Starbucks to at Indira Gandhi international airport – the list is endless. Seldom updating is fine, but if you are just doing this every other day – let the logic win – no one is interested in what you do and where you go. It is just none of their business, but it surely annoys them AF!
Also Read: 14 Things Every Girl Does Together With Her Roommate
Not paying attention when someone is talking
It can be easily judged when you are only half listening. You're busy at the phone, giving smiles to random people, or your gestures are just not in accordance. And this is simply not cool. This annoys the person you are talking to you and makes you a bad listener instantly.
Also Read: 11 Emotional Stages You Go Through While Shopping With Your Mother
Ending every message with an exclamation mark!
No, I didn't study!
No idea!
If your every text has an exclamation mark or a scary period at end, this just makes you comes a bit harsh and rude. It is always better to share an emoji or two while chatting to keep the mood alive.
Also Read: What Your Favorite Ice-Cream Flavor Says About You?
Constantly showing off
From your iphone to Lavie handbag and Only top, you're just constantly on the look-out for an opportunity where you can brag about the brands that you wear on a daily basis.
This annoying habit is surely a huge setback for people around you. Life is not just about brands; don't make it so materialistic.
Also Read: 7 Reasons Why Being in 20s is Totally Awesome
Stepping back at the end moment
You guys are going to meet at Pizza Hut at 6pm sharp tomorrow.
At 5.45pm – guys, I can't come. Guests at home.
If this is what you do every time, it is the right time to check your this annoying habit. No one is going to complain you on this, but they are surely going to consider you as an unreliable, and might even skip you in their next hangout.
Also Read: 8 Things You Will Only Get If You Are A Crazy Online Shopper
Top Image and Featured Image: Pexels.com