Curls have always attracted girls with straight hair. But flaunting those curly locks is not as easy as it seems. Curling your hair can be a troublesome task for a few as hair just won't hold curls or curls won't be the way you wanted. But with a bit of extra effort, you can rock your curls like a princess. We tell you how.
Get hold off heat protectant spray
Heat protectant spray would not only save your locks from heat but would also ensure that your curls stay for long. Instead of applying hair spray after you curl your hair, the best way is to apply it before starting the process.
Also Read: Have Greasy Hair And No Time To Wash?
Go for small portions at a time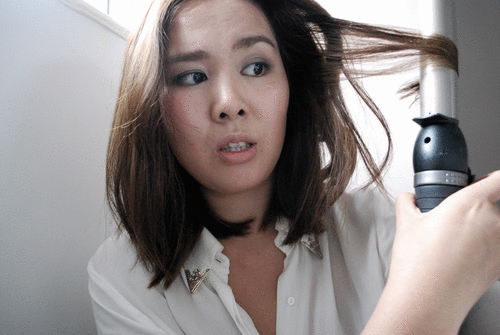 Curling your hair can be exhausting especially when you have so many hairs to wrap around. But be patient and curl only a small amount of hair at a time for a perfect look. It is highly recommended to pick up a same amount of hair every time for a more natural look.
Also Read: Prevent Hair Fall by Simply Following This Quick 10 Step Checklist!
Curl in the same direction
It is easy to get diverted such that half of your locks are away from your face and other half are towards your face. Be consistent while curling your hair. If you want natural looking curls, curl them away from your face, else curl towards your face.
Make them last longer
If you have more silky and fine hair, you would often face the problem of holding your curls. The best way is to allow them to rest. When you have curled a part of your hair, simply roll it up and secure it with a few bobby pins. Let your hair sit like that for a while before you drop them down. This way your curls won't lay flat.
Also Read: 6 Sun Care Mistakes That Are Taking a Toll On Your Skin
Use the curling iron of right size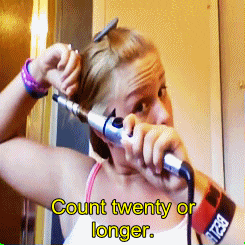 There is a range of curling irons available each with its own capacity. If you want tighter curls, go for small curling iron. A big curling iron would give you big curls.
Keep the temperature right
The right temperature is very important for effective curls. Temperatures below 200 degrees Fahrenheit work fine for thinner hair, while you would have to set them between 200-300 degrees Fahrenheit for coarser hair.
Also Read: Clothing Essentials Every College Girl Needs To Have
Cut your split ends
In order to make sure that your hair can hold curls, check if you have any split ends. Split ends make it difficult for hair to hold curls. Get your hair trimmed before you start on your mission of curling hair.
Never ever curl your hair when they are wet
It is not only for curling but basically for any heat styling process. Applying heat while your hairs are wet is just like frying them. You will kill your hair doing that! And further, your curls won't hold. Dry your hair with your towel before you start.
Also Read: 5 Acne Myths You Need To Stop Believing Now!
Featured Image: mid-day.com
Top Image: pixabay.com