People are never perfect. People can never be perfect. But relationships must be perfect. Though a perfect relationship is not the one in which you and your partner are always happy, never fight or always agree with each other. No, this is ideally not possible. A perfect relationship is not the one where you have to struggle hard to be always correct but a perfect relationship is the one where you and your partner are effortlessly yourselves and you make mistakes but you sort them together.
Yes, fights happen in every relationship and the goal should always be to end the fight and not the relation. So, if you have had a fight with your bae, just sort it out. Here are few tips and some adorable ways to sort fight with bae.
Apology should be the first
Never hesitate to apologize to your partner at all. If it was your fault or may be even it was not yours, if you guys are really in love with each other, just take the first move and say SORRY to him. Call him, meet him or send him a text saying sorry.
Also Read: 10 Things That Make A Guy Instantly Like A Girl
Hugs and kisses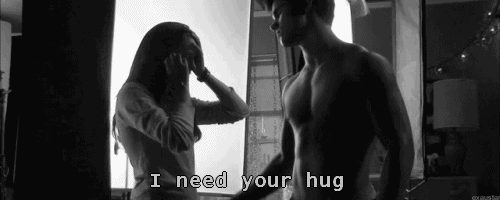 Don't just save your hugs and kisses for those cuddly nights only. Just go ahead and hug him tight after you have fought. He needs it too, more often just like you.
Also Read: 9 Irritating Things Which Our Boyfriends Do And We Don't Know Why?
An exhaustive but loving text message
Don't lie to yourself? We all want such texts from him once in a while. So, we must also send him such a message so that he also gets super pampering all the time.
Also Read: 7 Moments You Have If You Are In A Perfect Relationship With Your Partner
Give him a surprise visit
If this is possible, then nothing could be better than this. If you have fought and are not together at that moment, just rush to him ASAP with something cute to melt his heart and let him fall for you even more.
Also Read: #LoveTriangle: When You And Your BFF Fall For The Same Guy?
A REALLLLY long conversation
Try to sort things immediately and leave all your work aside and call him. Make sure you are giving all the time to him and sorting every issue one by one so that you guys are not having anything left unsaid.
Also Read: 10 Super Cute Ways Of Wishing "Happy Birthday" To Your Man
Send him romantic songs
Just search your playlist for the most romantic songs and send him the one which has some beautiful lyrics which will melt him and make him miss you and feel good about everything. He needs to know that relationship is worth all the fights, after all.
Also Read: 7 Sweet Text Messages For Your Boyfriend To Melt His Heart
Dedicate some loving status for him
Keep a nice status for him on any of your social media of which he is most active. Also, you can add a cute SORRY photo so that he can feel happy about it and will love you even more for all your cute gestures.
Also Read: 9 Cute Ways To Lift Up Your Bae's Mood When He Is Feeling Low
These were some of the cutest ways to sort fight with your bae. Obviously, if you matter your relationship more than your ego you should never think anything else and go bold and take the first step.
Top Image: Pexels
Featured Image: Meri Pyaari Bindu